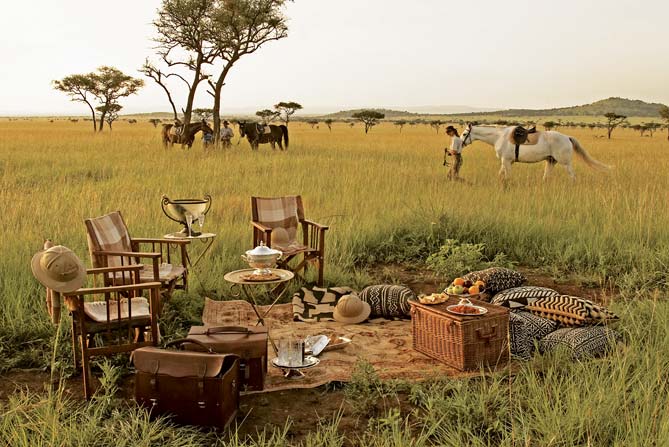 Some people cannot bear the thought of hanging around in a jeep, sweating in the hot sun, waiting for a small antelope to sprint past. It does sound really drab when put like that. However, why do so many people love a safari? Well, I went on one and this is what happened…

The waking safari that we had booked onto seemed like a perfectly safe option. Armed guards would be at the front and back of us, protecting us from anything nasty. Or so we thought. Waking that morning, there was a sense of excitement and anticipation as I pulled on my Khaki outfit.
The sun was only just rising and provided all the tourists with an amazing view of the bush. The bush is more of a scrubland than a jungle (watching Tarzan does not arm one with the correct image of Africa). The trees are thorny and bare and the scorched grass is thick in parts so that only outlines can be seen.
The guide warned us not to upset the elephants. Apparently, this bunch was not particularly keen on photography and could even get aggressive. My husband was a keen photographer and felt that he could shoot the elephants with some degree of sensitivity. It tends to get rather hot in the bush. Waking for miles in the ever increasingly rising temperatures is not for the faint hearted. I saw a Kudu and that just seemed cruel. This magnificent beast was strong and majestic. I thought of last night's dinner. Hmm.
Then an elephant appeared. This was more like it. By the time six more adults and to calves came into view, I was practically singing Hakuna Matata. The elephants were amazing. There was something almost extra terrestrial about them. They loomed from the bush as if out of nowhere, their camouflage as so good. My husband was really impressed with the beauty of the beasts. He began to click on his camera. He was determined to get a great shot that would remind us forever of this life changing experience. He was no so engrossed in his mission that he unable to see the elephants trotting towards us. He did not observe their great ears flapping in warning. Nor did he realise that the rest of the group had moved away from him.
A male was now only fifteen metres away and he gave an ear splitting trump. This was not the cutey creature that we had observed earlier but now he was ferocious and frankly scared the life out of us. The final trump stopped the photo shoot. We hurried away, thankful that the elephant had been kind enough to let us live.
So the question – are safaris exciting must be answered with a yes. Just don't take my husband.